These are the current active Queens quartets of Harmony, Inc.


---
1996 Harmony Queens | For Heaven's Sake
For Heaven's Sake | 1996 Harmony Queens
Watertown, New York

For Heaven's Sake first performed on their chapter show in 1994 and went on to win the Harmony, Inc. International Quartet Contest in Saint John, New Brunswick in 1996. They represented Harmony, Inc. at the World Harmony Jamboree in Anaheim, California in July 1999 and were selected to perform at the first-ever Sing 2001! A Cappella Celebration held in Nashville, TN. They have produced four CDs – "What A Wonderful World" (nominated for a 1998 Contemporary A Cappella Recording Award (CARA) for Best Barbershop Album and Best Barbershop Song), "Now and Again", "I Wish You Love" (nominated for 2009 Best Barbershop Song) and "Let's Live It Up". The foursome was blessed to be presented with the Image of Harmony Award twice - once with Laurie in 2000 and again in 2014 with Lynn.

Members of For Heaven's Sake include Lynn Blakeney (lead), Lorie Autote (tenor), Mary Ann Wert (baritone) and Katie Taylor (bass). Their original lead, Laurie (Shepherd) O'Donnell retired from the quartet in July 2012.

---
1999 Harmony Queens | Change of Heart
Central Indiana, Indiana

Change of Heart has been singing together since 1993 and they won the International Championship to become Harmony Queens in 1999. Most recently, they were honored to represent Harmony, Inc. at the Ladies Association of British Barbershop Singers' International Quartet Contest in Wales in October 2005. They were also awarded the 2002 Image of Harmony award for service to their community, chorus, Area, and Harmony, Inc. They regularly serve on the faculty of the Harmony, Inc. international educational school (Harmony Intensive Training School).
Members of Change of Heart include Janet Foster (tenor), Sara Stone (lead), Susan Spencer (baritone), and Beverly Miller (bass) who joined the quartet in 2003.
Chapters Represented: Harmony Magic and Covered Bridge Harmony.
---
2000 Harmony Queens | After Hours
Hudson, Massachusetts

After Hours was born in February 2000 with four members of varying experience and expertise from Montreal Chapter. Since then, they have had the honour and privilege of representing Harmony, Inc. and their choruses on many shows throughout Canada and the United States, including a performance on the World Harmony Jamboree in Montreal during the 2003 men's Barbershop Harmony Society convention.
Members of After Hours include Maria Gabriella (lead), Morgan Lacroix (tenor), Stacy Hugman-Frenette (baritone), and Lindsay Chartier (bass).

---
2004 Harmony Queens | Synchronicity
Nashua, New Hampshire
Synchronicity was formed in June 2002 with the intention of making beautiful music, entertaining audiences, and having a great time doing both! They are delighted to have experienced the ultimate reward – winning their gold medals and crowns at the 2004 Harmony, Inc. International Quartet Competition! They have performed for audiences both large and small, and young and old. Synchronicity looks forward to many more opportunities to spread their joy of singing in the coming year through barbershop shows and youth barbershop festivals.
Members of Synchronicity include Kathleen Macdonald (lead), Liane Iannuzzo (tenor), Debbie Dodge (baritone) and Jeanne Crowell (bass).

---
2009 Harmony Queens | Showcase
Nashua, New Hampshire
How fitting the name Showcase is for this foursome! They love to sing, to show their best to audiences, and to present special events (songs) in order to tug on the heartstrings of their listeners.
Showcase started singing together in March 2007 and just two and a half years later became the 2009 International Championship Quartet of Harmony, Inc. All are members of the international medalist chorus, New England Voices in Harmony from Nashua, New Hampshire. In 2012 they produced their first CD "Birds Gotta Fly" which was nominated for two A Cappella Recording Awards (Best Barbershop Album and Best Barbershop Song – If I Had My Way.) In 2013 they placed 2nd in the Boston Harmony Sweepstakes and enjoy performing throughout the US and Canada. Showcase would be delighted to perform on your next show or function. They offer a variety of songs, fun, and most importantly, a true Showcase experience that you will not soon forget!
Members of Showcase include Kathleen Macdonald (lead), Katrine Dickau (tenor), Samantha Tramack (baritone), and Renée Tramack (bass). [Original Baritone: Debbie Dodge (2007-2010) and Kari-Lynn Knight (2011-2015)]

---
2010 Harmony Queens | Ringtones!
Glen Ellyn, Illinois
Ringtones!, a young, vibrant barbershop quartet hailing from both sides of the border, formed on New Years Eve 2005. They came together with varying degrees of barbershop experience, from having never sung in a quartet before to having sung several times on the International Stage. Samantha Arten (Swanson), Jennifer Wheaton, Julia Borsari, and Lindsay Chartier are thrilled to represent Harmony, Inc, as your 2010 Harmony Queens!

Chapters Represented: Village Vocal Chords, New England Voices in Harmony, & Associates

---
2015 Harmony Queens | LiveWire
Watertown, New York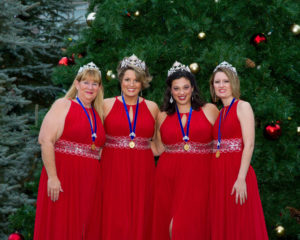 LiveWire was born in January of 2015 when Lorie, Lynn, and Katie were looking to branch out and try new voice parts. They asked Jessi to sing bass with them and she said yes! After 10 months of learning music in a long-distance quartet, they pulled off an unexpected win at their International convention and became the 2015 Queens of Harmony Incorporated!

Lynn Blakeney (TENOR) is happily married to Jim and has a grown son Joshua. Her passion is coaching quartets and choruses and encouraging singers to be the best they can be. Lynn is a certified judge in the Performance Category in Harmony Inc.

Katie Taylor (LEAD) is married to Ricky, and they have two sons Gavin and Zachary. Katie is a K-12 Music Teacher at Alexandria Central School. She enjoys directing musicals, coaching choruses and quartets, and giving private voice lessons.

Jessi Nasto (BASS) married Tony just last year, and together they are raising her beautiful daughter Nova with another one on the way! Jessi works as a property manager in Ithaca, NY. She and Tony are also excited to start up a mixed chorus in the Ithaca area very soon.

Lorie Autote (BARI) is a wife to Chris and mom to sons Drew and Evan. She is a math teacher at Case Middle school. Lorie enjoys singing in church with her family and watching Chris and the boys on the stage and on the soccer field.
Chapter:
Northern Blend
Area:
Area3
General public contact:
Area of operation:
Watertown
State:
NY

---
2016 Harmony Queens | Taken 4 Granite
Nashua, New Hampshire

Much in life can be easily taken for granted. The beauty of the sunrise, the food on our tables, and the love within our families. Sometimes the greatest blessings in our lives have been invisible to us, and yet right under our noses the whole time. The members of Taken 4 Granite know that sisters, mothers, daughters, friends, and God-given gifts can easily be under-appreciated and overlooked. In the autumn of 2013, the quartet seized the opportunity to come together– sisters, mother, and friend when Christina came back to live at home after being away at college, and prior to Samantha going away to college– to NOT take each other or the music they can create for granted.

---
2018 Harmony Queens | Aged to Perfection

Aged to Perfection is composed of two moms (Kathy Pomer and Gaye LaCasce) and two daughters (Ellie Pomer and Alexa Beal). In January of 2014 (when Ellie was 15) ATP formed as a chapter quartet in a Lebanon, NH, mixed harmony chorus directed by Alexa, Gaye and stepdad/husband (and ATP coach!) Dan Signor.
Initially, they all lived close and rehearsed often, but then "life happened!" Ellie (Bari) graduated from Ithaca College in NY and now lives and works in western Massachusetts. Kathy (Bass) moved to Bryans Road, MD, and is the Director of the Sheva Center at the JCC Association of North America, championing early childhood education. Alexa (Lead) lives in Earlysville, VA, where she is the Human Resources expert for small tech company. And Gaye (Tenor) lives in Palmyra, VA, (not far from Alexa) and is retired, after a l-o-n-g career in non-profit management and fundraising.
ATP attended Harmony University three times and sought out all opportunities to be coached. They've lost count of their performances – shows, big and small; school master classes; education events; and teaching gigs. They work hard to provide a polished, authentic, and memorable experience for every audience while singing all of their repertoire at the highest level possible.
From ATP – "We are thankful for time spent together doing what we love, for families who support our hobby, for dear friends (like our Harmony sisters) who have been generous and kind, for musical mentors who have helped us grow. We strongly believe in this organization, and in its founding principles. Most of all, we are thrilled beyond measure to be called Harmony Queens and are proud to represent Harmony, Inc. any place we can."

---
2022 Harmony Queens | Take 4
St. Louis Area, Missouri


---