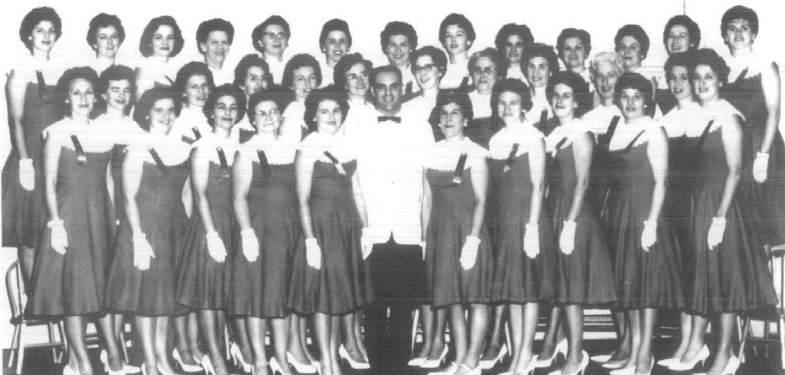 Harmony, Inc.'s mission:
Empowering all women through education, friendship, and singing.
The History of Harmony, Inc.
Since 1959, the organization has expanded from its Eastern roots to include chapters in the United States and Canada from California to Newfoundland, and from Manitoba to Florida. Contests and conventions are held each year for the purposes of educating members in the performance of the craft, bringing together the membership to see the best perform, informing the membership of the status and direction of the organization, and encouraging an atmosphere of friendship and camaraderie. A steady growth in membership, a gradual geographic expansion, continuous improvement in the quality of performances, and the determination to abide by its democratic principles and maintain its unique "Blend With Friendship", all bespeak a bright future for Harmony, Inc.
Harmony. Stronger.: Happy 60th, Harmony! (2019)
At International Contest and Convention 2019 in Sandusky, Ohio, Harmony celebrated its 60th anniversary. Linda Brehaut (incoming VP of Contests and Conventions) put together this lovely PowerPoint which was on display during the banquet.
Young In Heart: Harmony's 50th Anniversary Yearbook (1959-2010)
The yearbook has been broken into the following sections/pages. Each link is a PDF file and is provided in the same order as the original yearbook.
Front and inside cover, Foreword
Table of Contents
Harmony From Our Hearts: Cover Page 1959 -1984
Chapter One: Prelude to Harmony 1957
Chapter Two: A New Beginning 1958
Chapter Three: The Struggle 1959 – 1963
Chapter Four: The Next Ten Years 1964 – 1973
Chapter Six: Democracy In Action 1975
Chapter Seven: Year of Many Changes 1976
Chapter Eight: Biggest Convention Yet 1977
Chapter Nine: Big Year of Excitement and innovation 1978
Chapter Ten: We Made It! 20 Years! 1979
Chapter Eleven: The Exciting Eighties 1980 – 1983
Chapter Twelve: We're Harmony We're Strong 1984
Meet Our First Certified Judges
Meet Madame President: Jacquie Jensen
Young In Heart: Cover Page 1985 – 1999
Chapter Thirteen: Sunny Conditions in the Mid-Eighties 1985 – 1988
Chapter Fourteen: Identification Challenge 1989 – 1991
Chapter Fifteen: Peaceful Resolutions 1992
Chapter Sixteen: Universal Harmony 1993
Chapter Seventeen: Another Happy Anniversary 1994
Chapter Eighteen: Inspired By Our Desire to Grow and Flourish 1995 – 1998
Chapter Nineteen: A Gem of a Ruby Jubilation 1999
Meet Madame President: Bev Jackson
About The Author: Jeanne O'Connor
The Next 10 Years: 2000 – 2010
Appendix
Harmony Queens and Medalist Quartets
International Championship and Medalist Choruses
Convention Sites / International Presidents
International Chapter History Book Contest / Chapter Bulletin Contest
Editors of The Key-Note / International Contest and Judging Program
Chapter Directory / Area Delineations