The HI Note is the official semi-monthly E-Note publication of Harmony, Inc.

| | |
| --- | --- |
| HI Note: September 2021 Issue #1 | |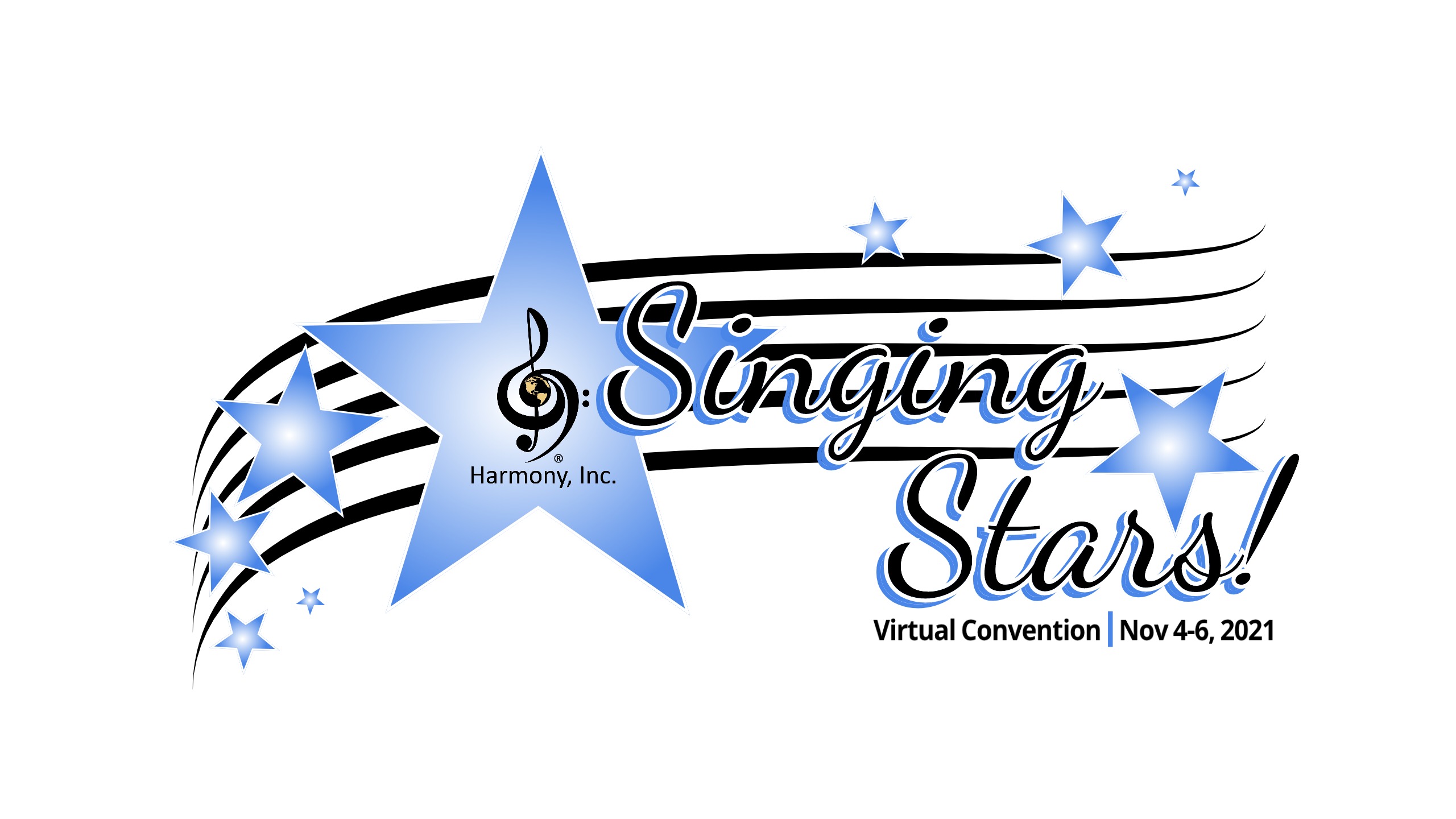 Celebrating YOU!


Jam-packed VIC schedule to show off everyone's talents
By Allison Thompson, International Convention Manager
Registration is now open for Harmony Inc.'s 2021 Virtual Convention!
This year's event is full of exciting sessions that promise to be entertaining and engaging as we welcome a wide variety of singing stars to our virtual stage!
Check out all of the great sessions and register at https://www.harmonyinc.org/vic-sessions/.
New Common Song
As part of this year's event we are introducing a new common song - Deke Sharon's arrangement of Rockin' Robin! All members will receive a copy of the music and learning tracks in advance of convention. A special thank you to Anne Bureau for creating our learning tracks for us!
We have scheduled some section rehearsals for this song – so mark your calendar and watch your email for an opportunity to register for these classes. They will be recorded and available to all members in case you can't attend in person – or want to learn multiple parts!
Baritone – Friday, Oct 1, 7 p.m. EDT
Tenor – Saturday, Oct. 2, 2 p.m. EDT
Lead – Sunday, Oct. 3, 6 p.m. EDT
Bass – Wednesday, Oct. 6, 7 p.m. EDT
Theresa Weatherbee is also putting together a simple visual plan for us and will be offering a class to teach us the movements prior to convention. How much fun it will be next year when we are all together in Verona to sing our new common song and do some group choreography!
Don't miss out on all of the great content and a chance to socialize with your Harmony friends at this year's virtual convention.
Register today!
To see the complete convention agenda, please visit https://www.harmonyinc.org/vic-2021/.
---
Say, 'HI!' at bargain rates
VIC big screen ads just $10
By Donna Clarkson, VP Finance & Interim Business Services Coordinator
Second time around - we're getting really good at this! Yes, IC&C is going to be held virtually again this year. The Convention Team is working hard to provide us with a VIC 2021 that will give us many opportunities to connect with Harmony, Inc. Would you like to say hello to your Harmony friends? Let them know how much you miss them? Tell them you are looking forward to seeing them next year?
As with last year, there is the opportunity during VIC 2021 for Big Screen Ads. Ads are being offered to the membership and to member businesses at the reduced cost of $10 US. We will again use form HAR-092 to complete the contract, upload your ad and make payment all on-line. (Thank you to Corporate Assistant, Kelly Peterson for preparing the form.)
Acceptable File Formats:
PowerPoint (.pptx, .ppt)
Adobe Acrobat (high resolution with text exported as curves)
JPG or PNG (high resolution only)
Ad Size:
All slides/ads should be 10" wide by 7.5" high*
*Although we are able to resize your ad to fit the screen, anything too wide or too tall may necessitate having blank space around the ad on the screen
Please note that again this year, we will NOT accept any transitions or animation on your ad; each ad must be independent.
Here is the Big Screen Ad Contract Form: https://www.harmonyinc.org/har-092-icc-big-screen-ad-contract/.
Ads, contracts and payment must be received no later than October 15, 2021.
Any questions? Contact me.
---
Working together to achieve a goal
The Harmony, Inc. Corporate Team
By Jan DelVecchio, Executive Vice-President
By definition a team is a group of individuals working together to achieve a goal. Harmony, Inc. is built on teams that work cooperatively at all levels of the organization. A quartet may have a coach who critiques and encourages them en route to their best performance. Chapters have Music Teams who work with the director to facilitate the choice and learning of music. Areas have ACC Teams who organize their Area Contests. We have many teams at the corporate level - our Education Team that has worked diligently over the past year to bring The HIVE to the members. There are currently three openings on the Corporate Team.
The Public Relations Coordinator works with the Communications Team to ensure that the members and the outside world are familiar with all the great things that Harmony, Inc. has to offer and to publicize our International events.
The Copyright and Licensing Coordinator is part of the Programs Team. She makes sure that all of the music that is distributed and performed by Harmony, Inc. is legally licensed.
The Business Services Coordinator is part of the Finance Team. She coordinates with Big Bang Promotions who operate the Harmony Shoppe and she arranges to have vendors in the Hospitality Room at IC&C.
None of these people work alone. They are all part of teams who work together to ensure that Harmony, Inc. is achieving its goal of Empowering All Women through education, friendship and singing. Hope you will consider becoming part of our team!!
Job descriptions can be found in the Corporate Manual located in the Members Only section of the website. If you want more information, please, contact me.
If you are interested in applying for a position, please complete and submit Form HAR-001.
---


More Than Notes and Words
Steve Tramack
Wednesday, September 8, 7pm EDT
Music is the language of emotion. It has the power to move, to heal, to inspire - both for the listener and the performer. One of the keys enabling a performer to unlock the power of music is knowledge of and sensitivity to what the composer and lyricist were trying to say. In this session, we'll take a closer look and listen to the various elements of melody (e.g. contour, movement, range, patterns) and how to interpret melody in conveying emotion. We'll look beyond the text into the subtext of lyrics, and aspects of storytelling in delivering your vision for the song.
Planting Seeds for HI Growth
Kim Meechan, Bonita Hester, Jess Jones, Kristin Gunasekera
Tuesday, September 14, 7pm EDT
As the phoenix rises from the flames, so too does Harmony, Inc.! We've experienced an unusual year, never expecting that we would have to stop singing, performing and competing together. We lost members, we welcomed new members, and we celebrated the chartering of a new chapter! Join representatives from the Harmony, Inc. Membership Team for a collaborative discussion about recruitment, retention, and how to keep Harmony, Inc. growing and thriving.
Solfege Bootcamp, Parts 2 & 3
Sue Greene
Part 2: Thursday, September 23, 7pm EDT
Part 3: Thursday, September 30, 7pm EDT
Introductory Solfege for Barbershoppers: 3 part series: Solfege Bootcamp - If you have ever wondered how some singers seem to be able to hear pitches and harmonies easily this is the answer: They organize the notes of the scale with Do-Re-Mi's. This musical language is called Solfege and it will make learning songs easier and improve your sense of pitch and harmony. Sue will start us off at the beginning and we will sing along with simple folk songs as we gain confidence in our ability to recognize the function that notes play in our melodies and harmonies. This will also serve as a comfortable introduction to reading pitches on the staff. Zero experience is required.
Part 1 covered five steps of the scale. Part 2 will add two additional scale steps and plenty of practical application. In Part 3, Sue will show you how solfege works with musical notation using simple melodies. A recording of Part 1 is available at www.harmonyinc.org/the-hive.
---
Condolences from the Membership
to Newfound Sound (Area 1) on the recent death of member Ayesha Fiech

to Kathy Dickson (Rochester Rhapsody and FUSION quartet, Area 3) on the death of her husband, Bob, on August 28.

to Sherry Hostetter (Rochester Rhapsody, Area 3) on the death of her son, Craig, on August 25.

to Wordene Day (Rochester Rhapsody, Area 3) on the loss of her dad, Worden, in December 2020.

to Nicola Stevens (Area 3 ACJC) on the loss of her father-in-law in January 2021
---
Deadlines approaching!
SEPTEMBER 15: Deadline to submit talent video for Search for the Stars and Showcase of Stars Virtual International Convention events.
OCTOBER 15: Deadline for Big Screen Ad Contract forms
NOVEMBER 4-6: Virtual International Convention
DECEMBER 31: Deadline for Youth Joining Youth free dues program
The next issue of the HI Note comes to your inbox September 20. What would YOU like to read about in that issue? Share your thoughts with editor@harmonyinc.org by September 13.
See you in a couple weeks!
Copyright © 2021 Harmony, Inc., All rights reserved.