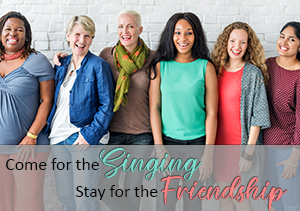 INTRODUCTION
Our mission statement is, "Empowering all women through education, friendship, and singing". Since 1959, Harmony, Inc. has expanded from its Eastern roots to include chapters in the United States and Canada from California to Newfoundland, and from Manitoba to Florida. Learn more about our rich history. We have 2000+ members and close to 70 chapters that are divided into six areas. The business of Harmony, Inc is managed by our International Board of Directors and supported by a team of assistants. We hold area contests once a year, and in November we gather for our International Convention and Contest.

WHY WE DO IT
We exist and thrive because we help women find passion and purpose. We provide a place for women to be heard. We support and value each other and we provide a sense of belonging.

WHAT WE DO
We sing barbershop harmony but we also host conventions and contests. We focus on education. We make a difference in our communities. All these things might look the same as other organizations but once you come into the Harmony family, you'll understand firsthand why we're different and why we've remained autonomous for over six decades!

There is SO much more to tell you about Harmony, Inc. To learn more please visit www.harmonyinc.org or if you have any questions please contact our Corporate Office.

---

SINGING AND MORE!
Yes, we sing! We sing at rehearsals, we sing in the community at nursing homes, churches, hospitals, and conventions and we put on shows to raise funds for our chapters. Singing is our joy and our passion but there are other benefits of belonging to Harmony, Inc.

EDUCATION
We host education classes, led by talented and knowledgeable people, during our Area Conventions and Contests as well as our International Convention and Contest. The HIVE (Harmony, Inc. Virtual Education) provides online learning throughout the year. Areas of Harmony, Inc. hold Educational Days, where local talents educate us about music, performing, and singing.

COACHING
We have access to numerous coaches who are available to visit your chapter and lead your members on a journey of growth and confidence, making your chapter more united and skilled.

PERFORMANCES
Most chapters are very busy in December putting on holiday performances at a variety of venues. Performances are also a great way to raise funds for your chapter at any time of year. Buddy up with local talent to give your community something to talk about and share your love of barbershop.

AWARDS
At our Area Conventions and Contests, the top four performing quartets and choruses are awarded ribbons. At our International Convention and Contest, the top five performing quartets and choruses are awarded medallions/ribbons. The current Champion Quartet (Harmony Queens) are each presented with a traveling crown to wear during their first year. The outgoing Champion Quartet (Harmony Queens) are each crowned with a rhinestone tiara. We also have the Accord Award, the Audience Entertainment Choice Award, the Findlay Plaque, and the Susan C. Trenchard Service Award.

HARMONY FOR YOUNG WOMEN
The Harmony for Young Women Program is intended to reach out to young women through four-part a cappella harmony in the barbershop style. Its goal is to provide musical education and an environment that fosters a love of vocal music, personal growth, development, and life-long friendships. The program is intended to raise awareness of the barbershop style in youth and music education programs. It is not to be used to solicit membership from young women or music educators.

FIND YOUR VOICE
The Find Your Voice program is a package designed by Harmony, Inc. for the use of its chapters in building membership, retaining existing members, and increasing public recognition. It is an integrated approach to membership, public relations, marketing, and vocal skills. Whereas any one part may be useful on its own, the chapters that use all of the elements in a well-planned approach to the growth and development of their chapter will achieve the greatest success.

BHS, SAI, MBHA, AND LABBS
Barbershop singers have a lot of fun and welcome the opportunity to share their love of singing with others. That's why Harmony, Inc. enjoys close ties with the Barbershop Harmony Society (BHS), Sweet Adelines International (SAI), the Mixed Barbershop Harmony Association (MBHA), and the Ladies Association of British Barbershop Singers (LABBS).

---

SIGN ME UP!
Have we piqued your interest yet? We've tried to show you all the amazing benefits of belonging to Harmony, Inc. but the best way to feel the energy and bonds that come with singing is to visit one of our chapters. We are welcoming to all women who would like to check us out to see if we are a good fit for your interests, whether you want to join an existing chapter or are ready to start a brand-new chapter!

JOIN AN EXISTING CHAPTER
We have close to 70 chapters across North America. To see if there is one in your area please visit Locate A Chapter. Drop by a rehearsal as a guest, chat with the members, and get to know Harmony, Inc. better!

OTHER MEMBERSHIP OPTIONS
We also have a number of other membership categories, in addition to regular membership.
Associate Members do not sing with a chapter but may sing in a quartet. They may be thinking of starting a new Harmony, Inc. chapter or they may be in a prospective chapter. They may also be former chapter members who want to retain their Harmony, Inc. membership. Learn about the benefits of being an Associate member or join now!
Affiliate Membership is open to all men who wish to be affiliated with Harmony, Inc. Privileges of affiliate membership include most benefits of regular membership, except for the right to vote, hold office and compete as a singer. Join now!
Life Membership is available to regular, associate, and affiliate members. Life membership is offered at 25 times the current annual dues rate. For more information about becoming a life member, contact our Corporate Office or call 855-750-3341.

START A NEW CHAPTER
If you are a member of a singing group already or want to start one, why not consider joining Harmony, Inc. and benefit from all that we have to offer. This includes support for getting started, public relations material and resources, education, coaching, and recruitment support through our Find Your Voice program. We even have a New Chapter Development Coordinator who can help you get started. If you are ready to have the time of your life with an organization that fills hearts with joy, visit Starting a Harmony, Inc. Chapter.

---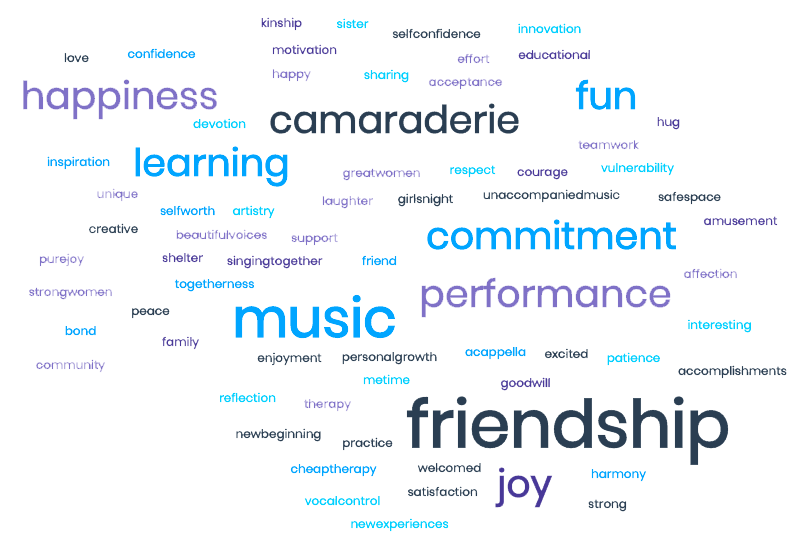 FREQUENTLY ASKED QUESTIONS
ARE YOU AN INCLUSIVE ORGANIZATION?
Harmony, Inc. is open to all women who identify as female. Harmony, Inc's Equality and Diversity Committee provides education and awareness-raising about equality, diversity, and inclusion. The committee advocates for embracing and valuing all diversity. Our online "Area and Chapter Handbook on Promoting and Celebrating Diversity" is available to all our members.

WHAT DOES IT COST TO JOIN?
Chapters have monthly dues and that amount varies by chapter. Harmony, Inc. has annual dues which are often collected with the chapter's monthly dues. You would need to check with your local chapter to find out their specific dues. If you want to start your own chapter, you'll need to decide that based on your expenses. For more information on membership fees please contact our Corporate Assistant.

DO WE HAVE TO COMPETE AT THE INTERNATIONAL CONVENTION & CONTEST?
No. Each chapter decides whether to participate in the contest or not. In order to enter the International Contest, your chapter must obtain a qualifying score at your Area Convention and Contest.

HOW DO I KNOW WHICH PART I SHOULD SING?
Typically, when you visit a chorus, they will go over the different voice parts with you and determine which part would best suit your range. You'll find an overview of the different voice parts here.

I DON'T READ MUSIC; HOW CAN I LEARN MY PART?
Many chapters have members who don't read music. Although each chapter is different, often they will provide part-predominant learning tracks to help you learn your part. In addition, it is customary for chapters to build section rehearsals into their schedule.

WHO CAN I CONTACT IF I HAVE FURTHER QUESTIONS?
Our Corporate Assistant would be pleased to answer your questions about Harmony, Inc. You can also contact our Director of Membership.